Healthy life Expectancy & Locomotive Syndrome
Motoshige NIKAIDO
presented at the 5th.Korea-Japan clinical orthopedics joint meeting
MAY.06,2017 Busan,Korea
Reference : Locomotive Syndrome Pamphlet 2015 / The Locomotive Challenge !
Japan is one of the countries in the world that is rapidly speeding towards a super-aged society.The declining birth rate coupled with an aging population and decrease in the productive-age population have brought forward issues associated with securing financial resources, accompanied by increases in medical care expenses over time. The social security system in Japan is currently in a critical situation.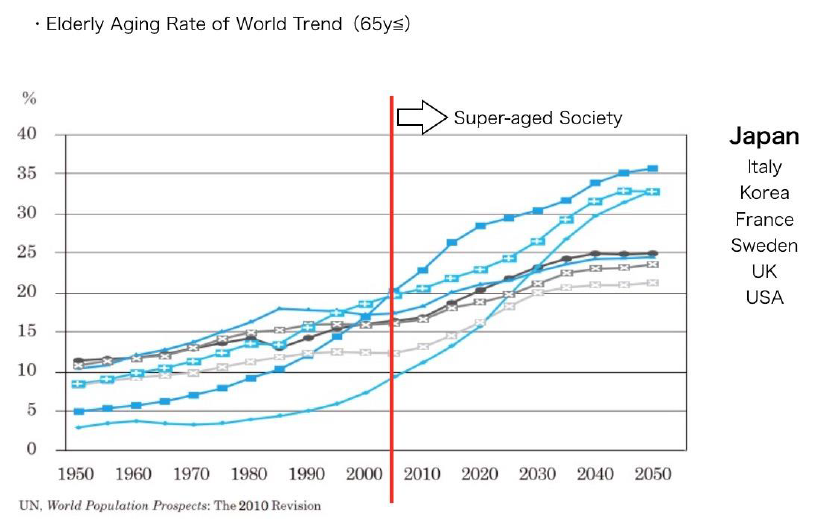 Healthy life expectancy means the number of years people can expect to live in good health without assistance.The gap between the average life expectancy and healthy life expectancy,currently 9 years for men and 13 years for women, represents the period during which people require support/care or are bedridden.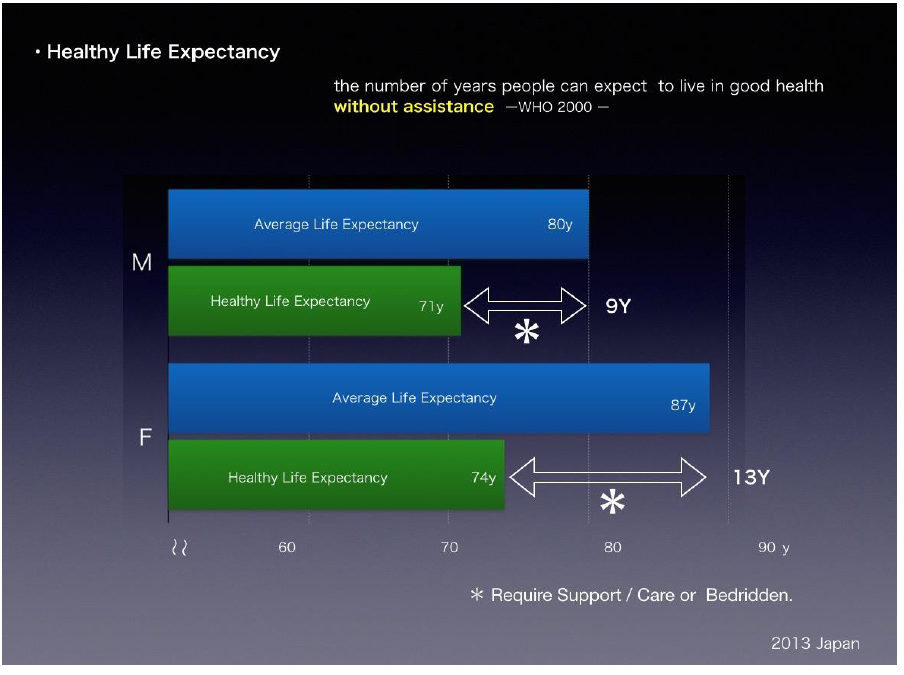 Among all the reasons for "Requiring Assistance", Locomotor diseases that we treat in daily practice account for 34%,representing the most frequent reason in 2013.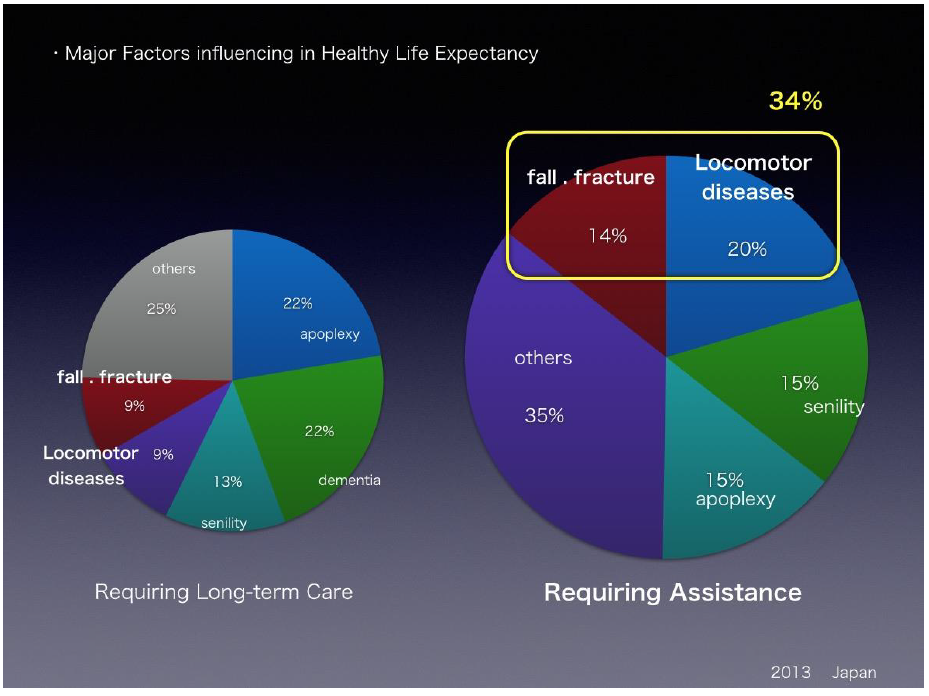 *Locomotor diseases : Musculoskeletal disorders ( LSCS. Osteoporosis. Knee OA etc.)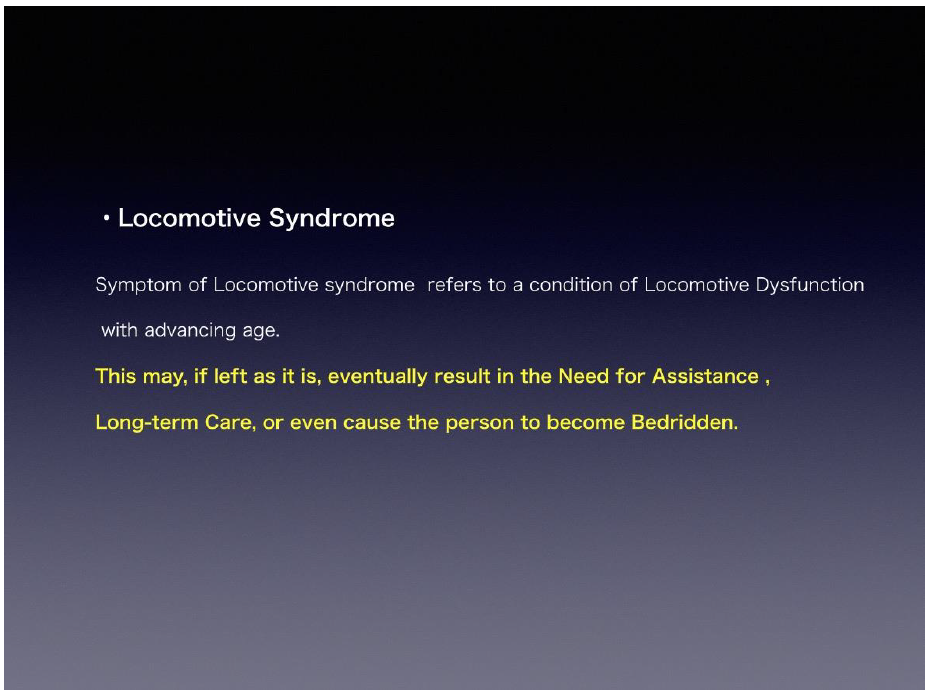 *Locomotive Dysfunction : Diminish one's body's ability to move.
To achieve our goal in the future, measures for patients with Locomotor Diseases, as well as for the "not-yet-Requiring-Assistance group", in other words, the Locomotive syndrome group,are critical.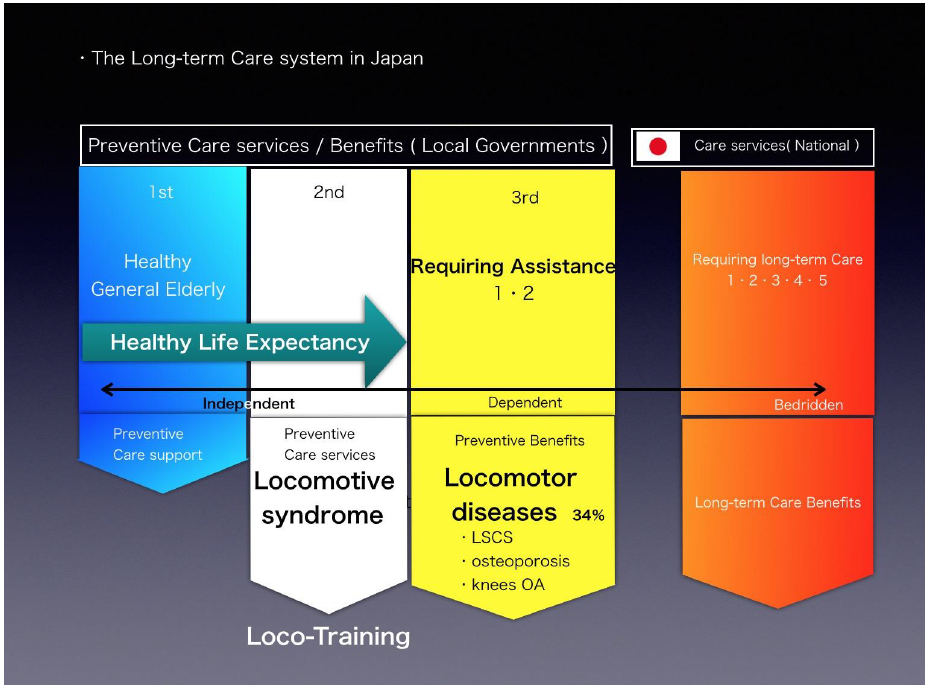 In order to extend healthy life expectancy and reduce the increase in the social cost of medical care,the onus is on orthopedists, as leaders among health care professionals in this field,to extend their cooperation.
Locomotor Organs are like the engines or wheels of a "Locomotive". It means " the Musculoskeletal system" , consisting of the bones , joints , muscles , and nerves .The body cannot move properly if any part of the system is broken.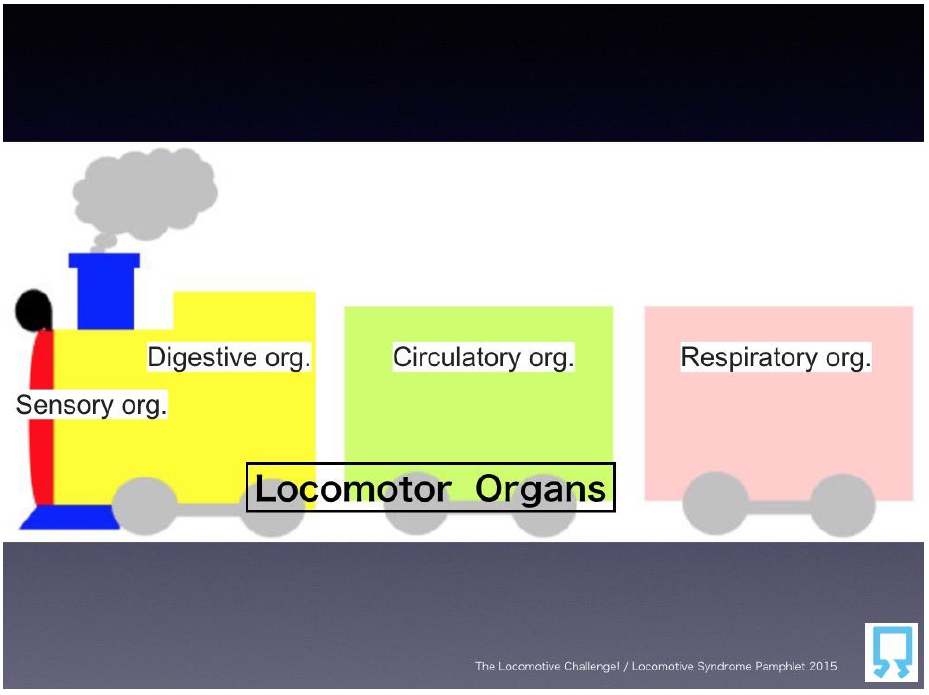 "Locomotive syndrome" means neither a Disease nor Diagnosis.  Far from that it is more like Health Condition or Abnormality of Locomotor Organs. Locomotive function means one's body's ability to move .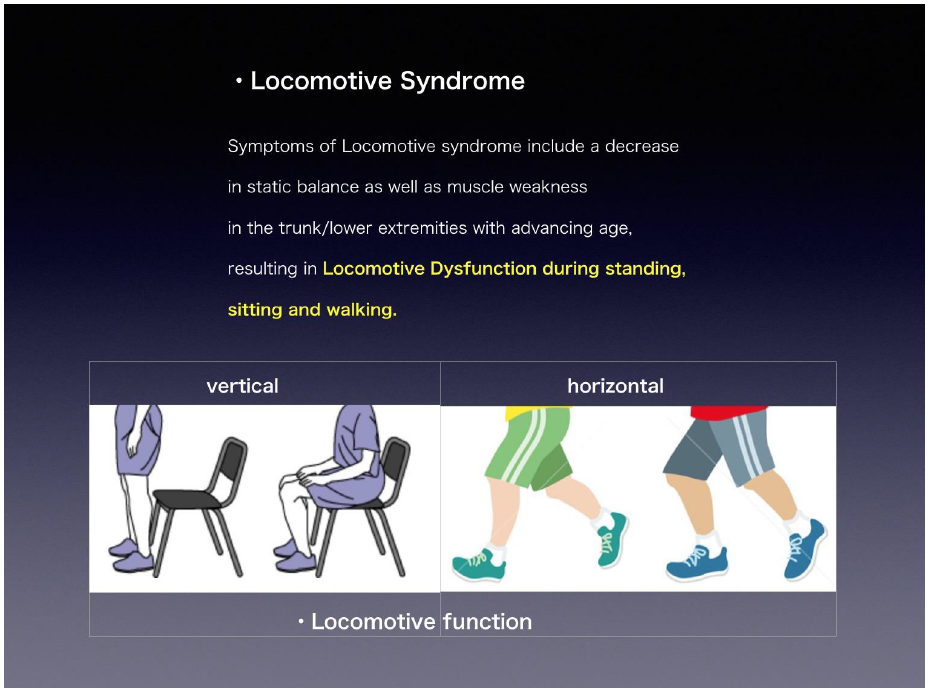 In Infant , the balance grows starting from "Dynamic Balance" to "Static Balance".
On the other hand , declines from "Static" to "Dynamic" with advancing age.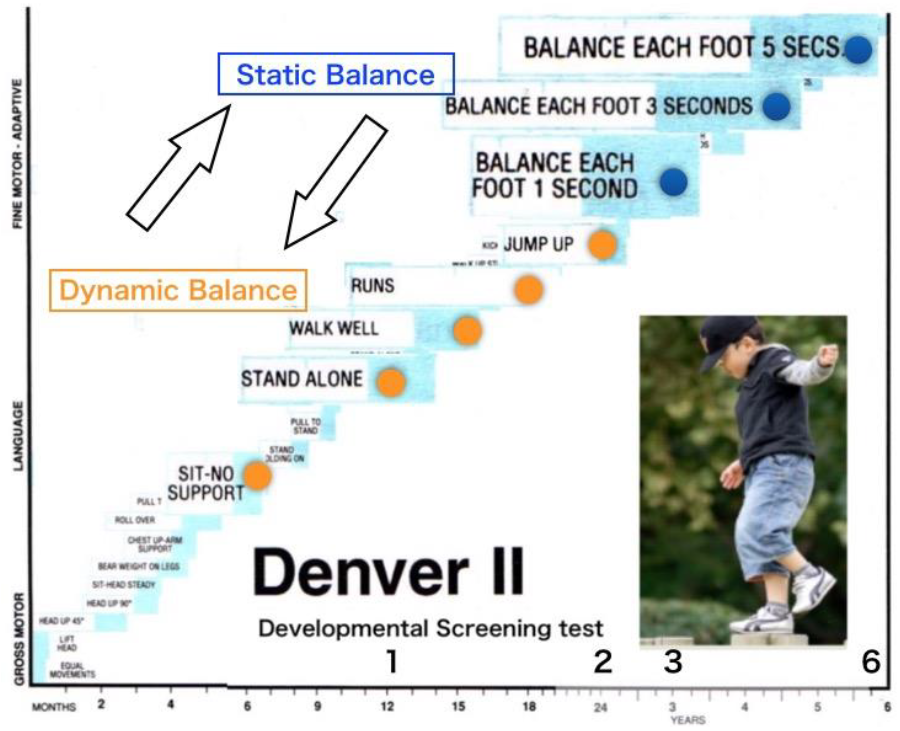 Dr.Frankenburg ; Connecticut. USA 1960
Average time of "Standing on One Leg" starts declining from around people's 60's.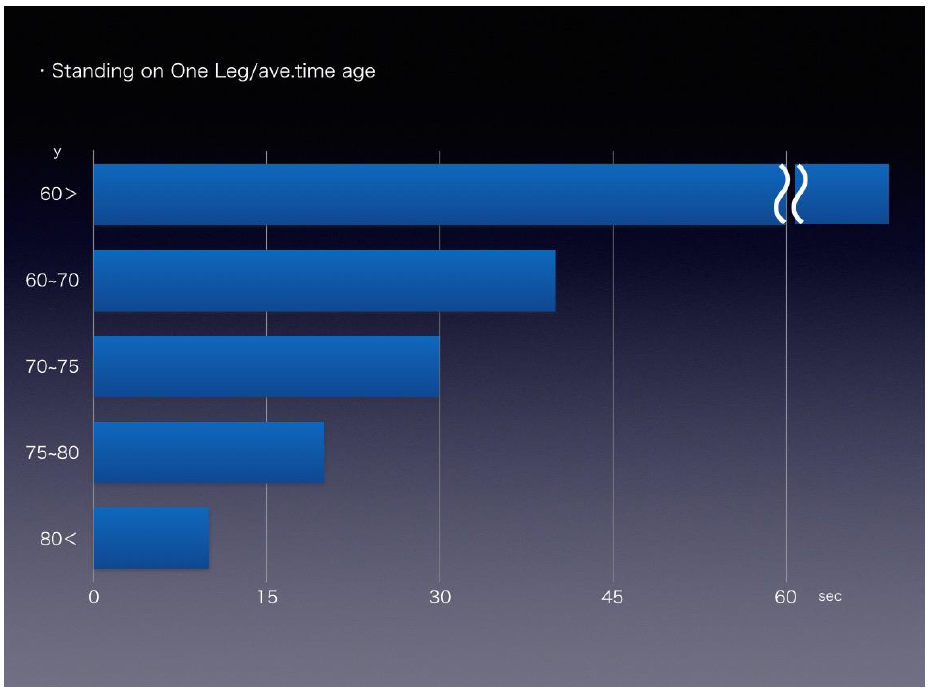 Muscular strength starts declining from around people's 50's and it suddenly falls around their 60's.In particular , decrease in lower extremities significantly with age , as compared to upper extremities.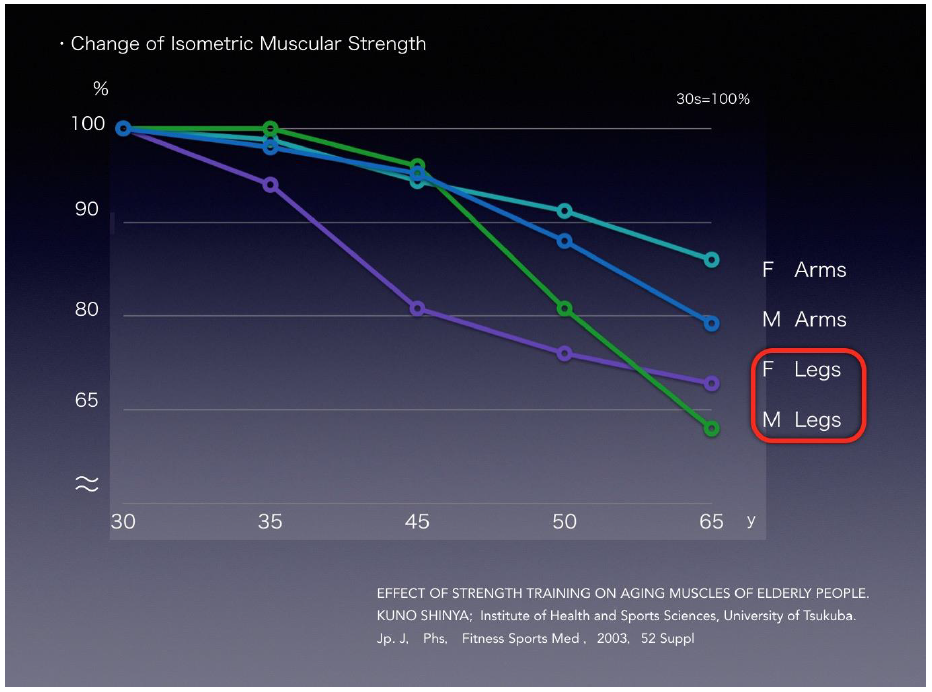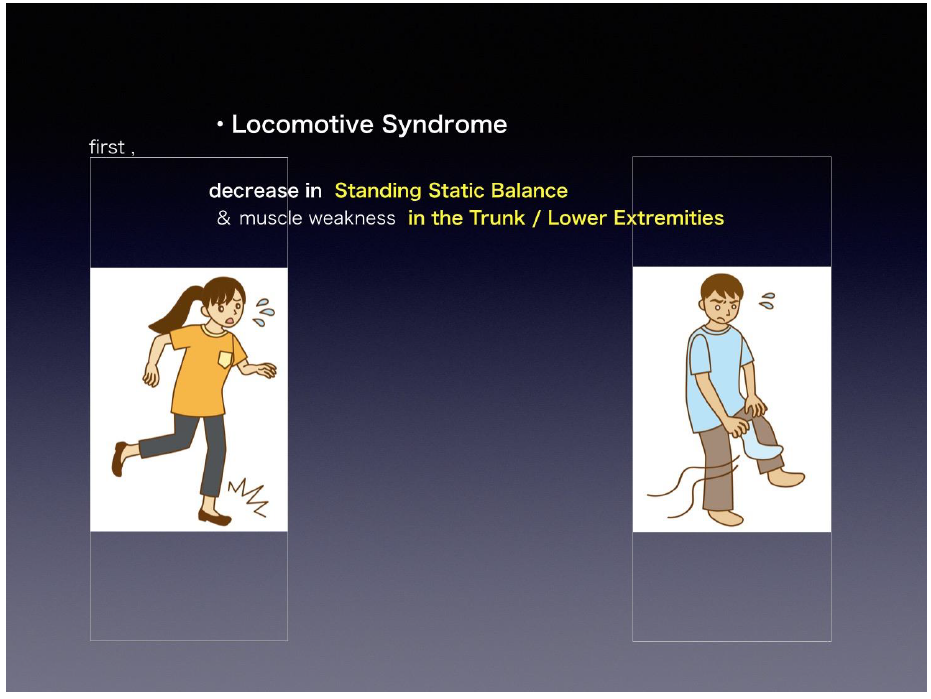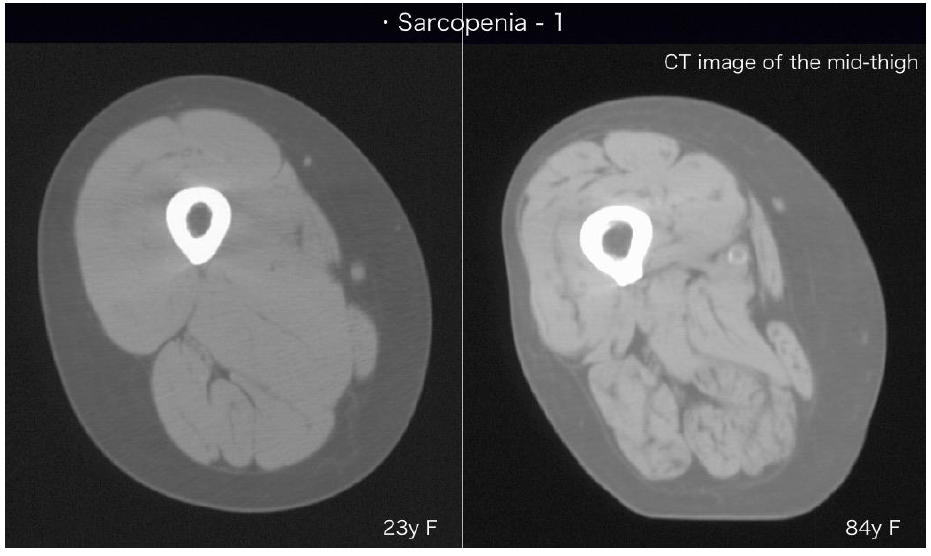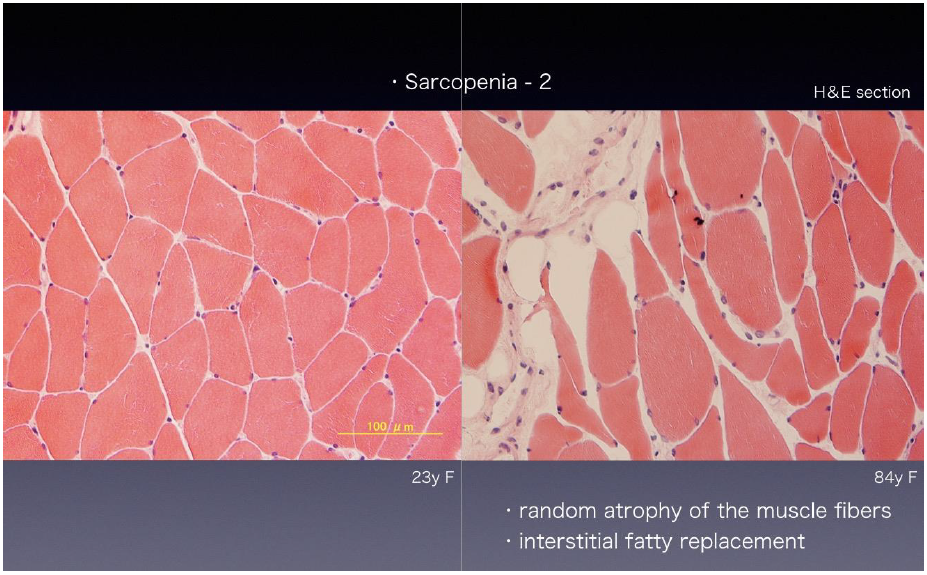 Muscle fibers may be broadly categorized as type 1/ slow, red muscle and type 2 / fast, white muscle.The former is affected to " Endurance capacity", and latter is prominent to "Instantaneous force".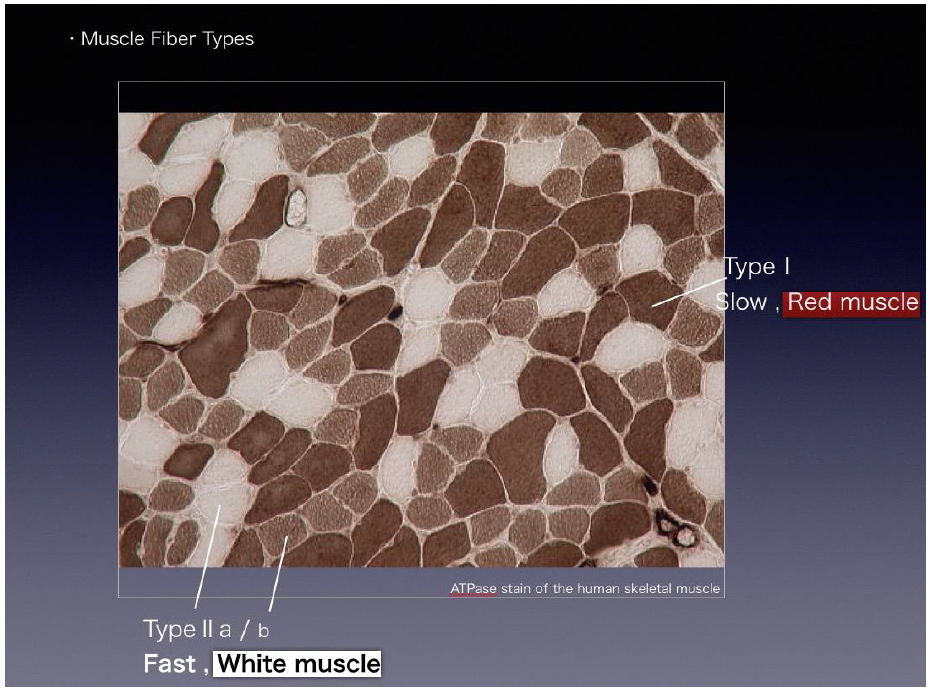 With advancing age , White muscle decreases significantly .So it becomes more difficult to do motion with big power such asstanding up , sitting down and walking fast .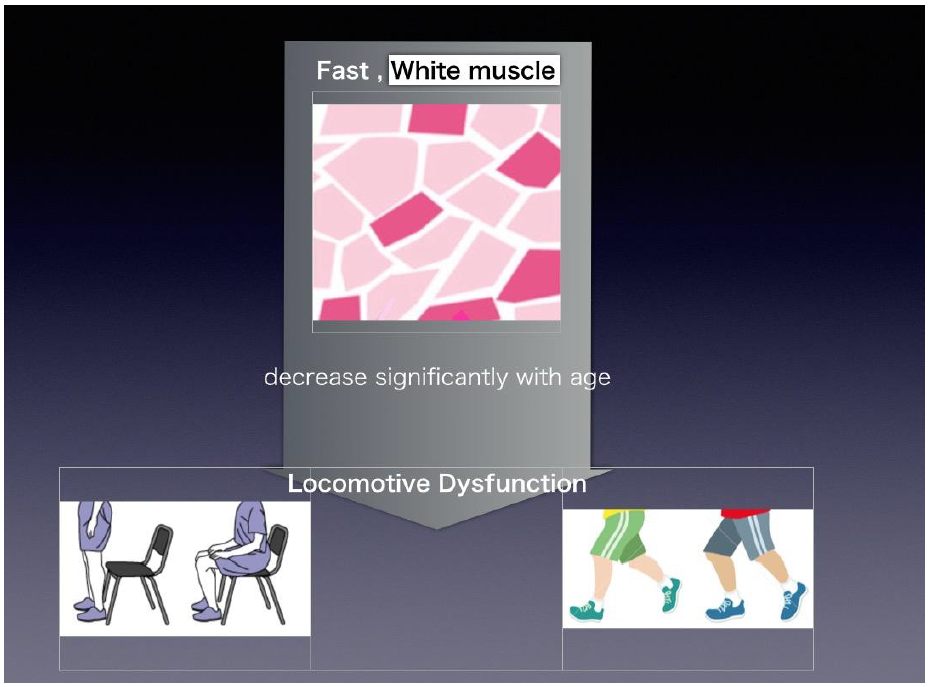 Even just one sign applies to you , out of seven warning signs, you are potentially Locomotive Syndrome .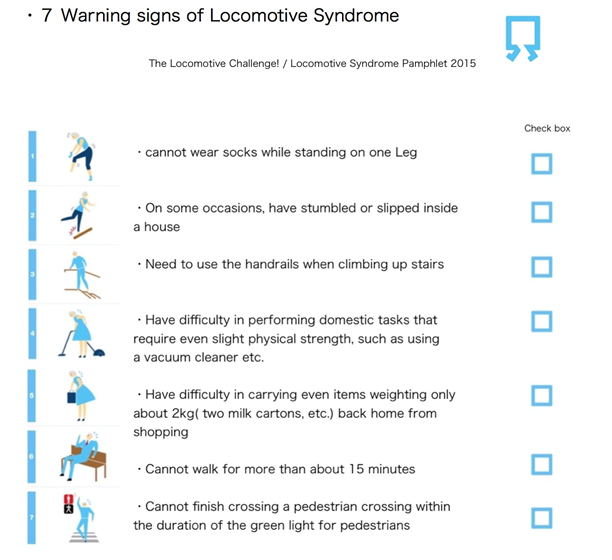 The Locomotive Challenge! / Locomotive Syndrome Pamphlet 2015
As training methods to prevent Locomotive Syndrome, we recommend two exercises "Standing on One Leg," and "Squatting," because they are associated with less stress on the knees and the back, and can be performed safely and easily at home. In addition, these exercises are based on evidence, and we collectively call them "Loco-Training".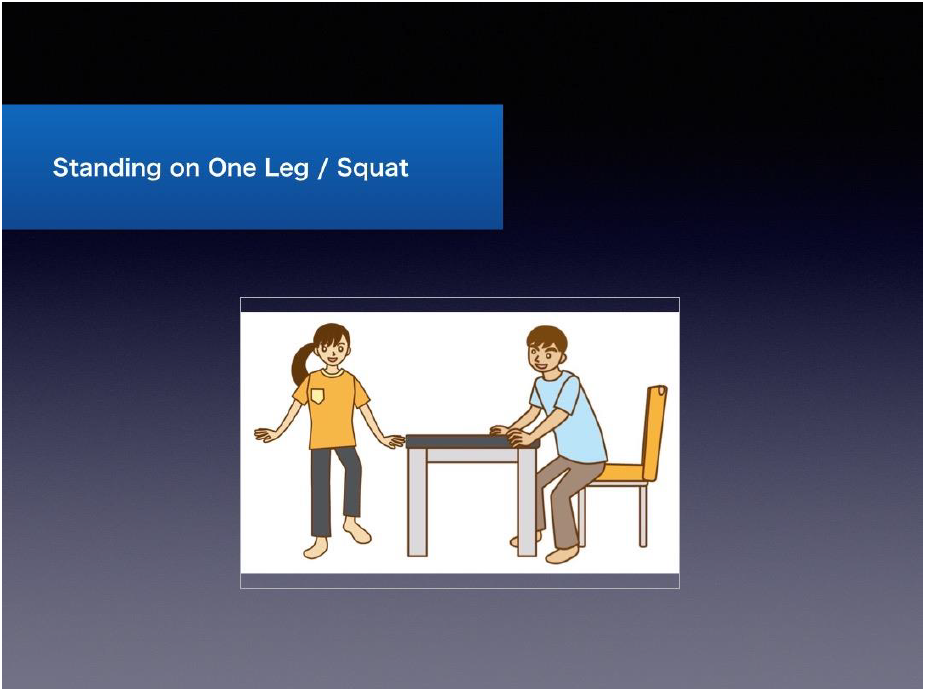 The One-Leg Standing is based on the idea of "Dynamic Flamingo (DF) Therapy".
Only one minute of standing on one foot is said to be equivalent to walking for approximately 53 minutes.The DF Therapy improves not only the ability to balance, but also the bone density in the proximal Femur.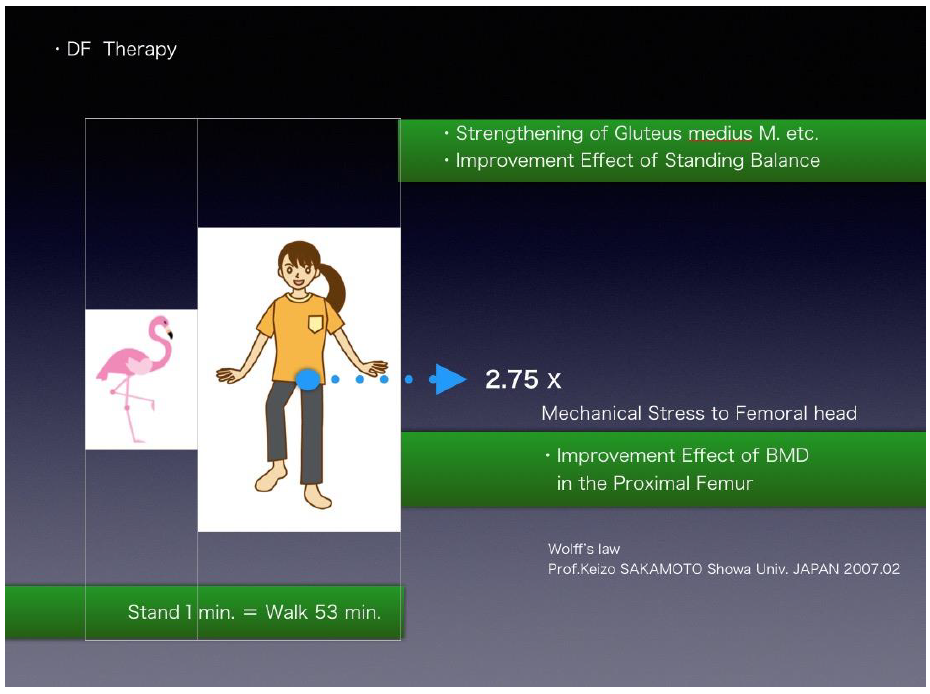 On the other hand, Squatting is a safe and effective training exercise for overall maintaining and strengthening of the muscles of the lower extremities, including the Gluteus maximus muscle,Quadriceps femoris muscle, Hamstrings, and Anterior tibial muscle, which are required for Locomotive Function.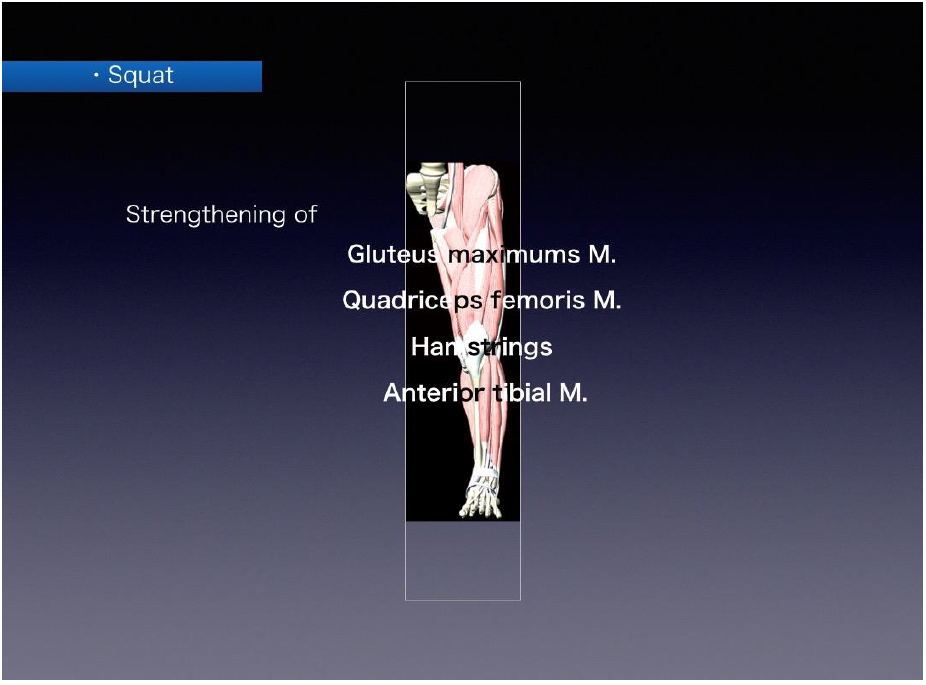 Standing on One Leg / Squat (LIVE)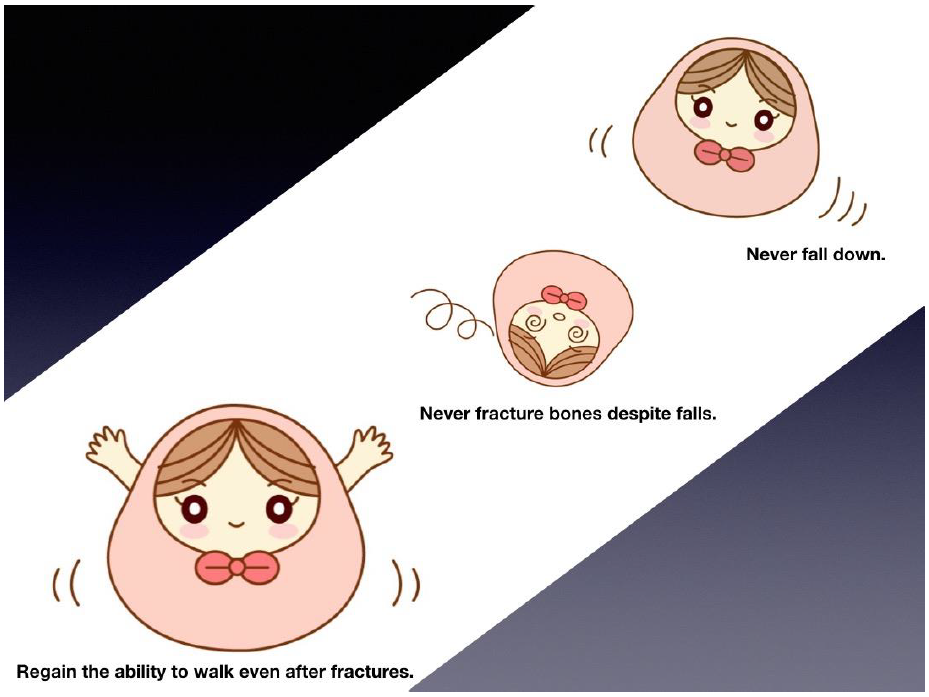 Update date 2017/05/22